Walk In Your Greatness™ is the brainchild of Dee Valdez, graduate of Pepperdine University and University of Colorado Boulder, author, speaker, beloved mentor and Northern Colorado mom. Her recent book, GitNit Right™ With Millennials, proves young people from all walks of life seek to fulfill a fundamental purpose and deep desire...to know & be known and to love & be loved. If you can imagine thousands of young people doing just that on a national scale, then you can imagine Walk In Your Greatness™.
Middle and High school students will interact with musicians, actors, designers, business owners, and high-profile role models. Music, Dance & Art contests, keynote speakers & interaction with mentors highlight the bevy of events at these epic, brilliantly organized, events.
Yes, students will Walk in Their Greatness and you can too! Volunteers, sponsors, mentors and investors are stepping forward and you also are invited to connect with us.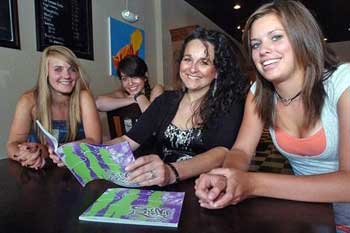 Walk In Your Greatness™ founder Dee Valdez (center) at the GitNit Right™ With Millenials book launch. Says Dee, "Much of the inspiration for Walk In Your Greatness can be traced back to the success of GitNit Right™."